Motivate Students with a Game like Experience
Motivate Students with a Game like Experience (#Gamify_with_SLS)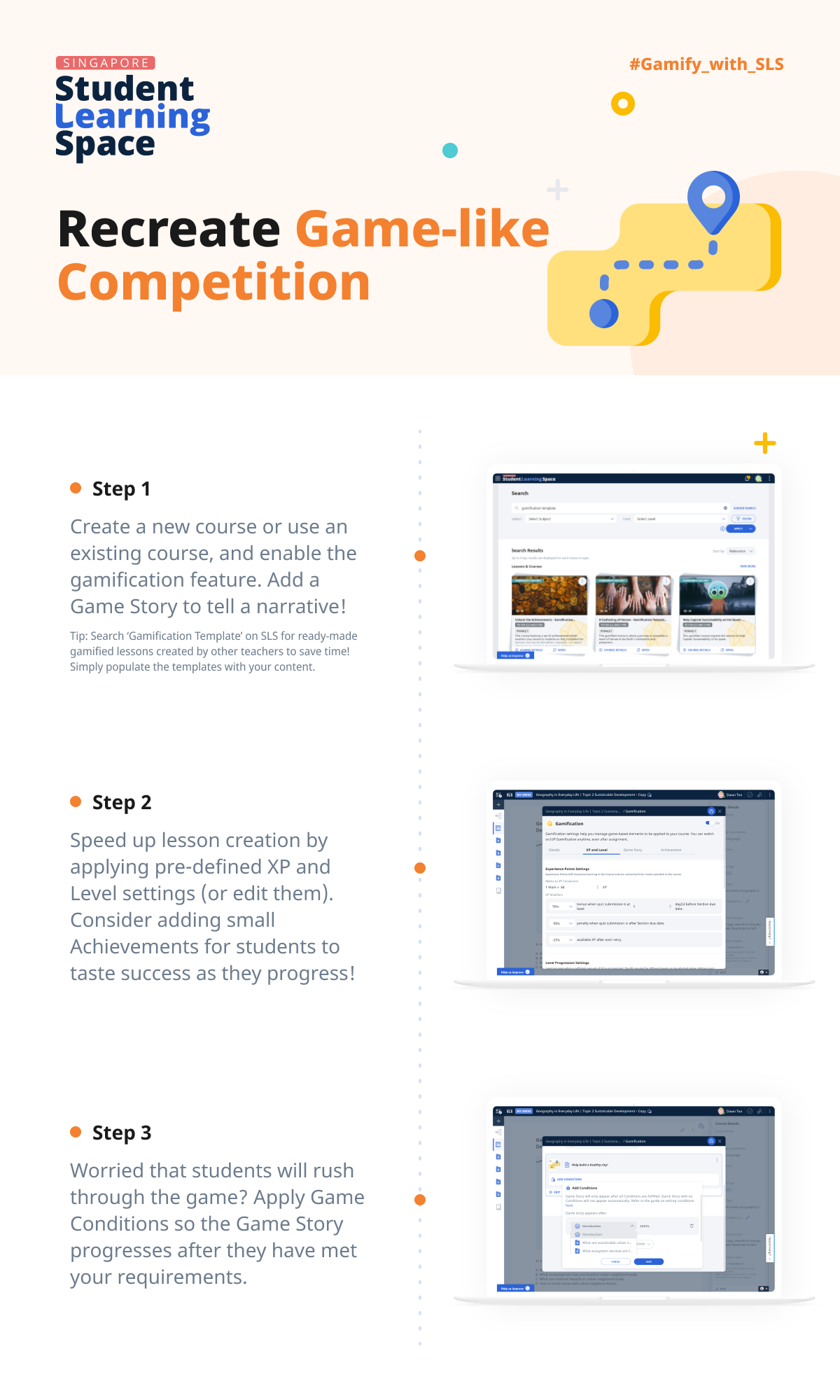 What it is
---
The gamification features enable teachers to leverage game-based elements to create engaging lessons that mimic a game-like experience.
Why do it
---
Through a selection or combination of gamification settings (Experience Points or XP, Levels, Achievements, Game Story, Game Teams), your lesson can boost motivation.
The Leaderboard encourages student engagement while allowing you to track their learning progress.
How to do it
---
Create a new lesson or open an existing lesson (copied from the MOE Library or Community Gallery to My Drive).

Tip!
Save time and use ready-made and curriculum-aligned lessons.
Search in the MOE Library or Community Gallery and copy it to My Drive.
Make your search quicker by using keywords and relevant filters.
In the lesson, enable gamification.
You can save time by using the pre-defined XP and Level settings or edit them based on your preference. This setting will allow you to view your students' learning progress and provide feedback to them in the lesson.
Add a Game Story if you would like to add a narrative to your lesson.
Ensure that students follow through the lesson attentively by adding Prerequisites. For example, students must complete Section A to progress to Section B.
Complete the game experience by adding Achievements. For example, they could receive small Achievements while progressing through each Game Story and earn a final Achievement at the end of the lesson.
Tip!
Ensure that your gamified lesson is running as intended by previewing the lesson as a student.
Need more inspiration on how to create a smooth gamified lesson?